The Team
At Rockwall Precision Eyecare, you will find an experienced and helpful team of eye care professionals dedicated to meeting your eye health needs. We recognize you have a choice for your eye care professional and thank you for choosing us to care for your family's vision needs. We invite you to refer your friends and family to our eye care office.
Dr. Brent D. Schmidlap and the entire staff value our patient relationships and strive to improve your quality of life through vision wellness. Our practice offers excellent service and state-of-the-art technology. Dr. Brent D. Schmidlap and the staff work closely as a team and take pride in providing one-on-one attention to solve your eye health and vision problems. We are dedicated to meeting the vision care needs of our patients. Read on to learn more about us.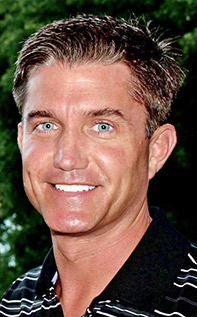 Dr. Brent Schmidlap
Dr. Schmidlap has been in practice for 19 years. He first received a B.S degree in Biology at Abilene Christian University. He went on to graduate from the Indiana University School of Optometry. He completed externships in ocular disease at Omni Eye Center of Atlanta, as well as externships in primary care and contact lenses at Keesler AFB Medical Center and Lackland AFB. He is a member of the American Optometric Association and the Texas Optometric Association. Dr. Schmidlap and his wife Kristi have been a part of the Rockwall Community for over 16 years. He is actively involved in providing care for Helping Hands in Rockwall, and the Sight for Students program. He also enjoys time with family, golf, tennis and travel.
Meet the Staff
Our staff is made up of three individuals who provide excellence in service and care for every patient. Combined the staff has over 40 years in patient care and they strive to provide the best individual care to everyone we see at RPE.
Our Optical is overseen by our Optician, Michelle Farmer. She will provide help with the latest in frames and lens options and all of your eyewear needs.
Our Optometric assistants are Alex Gonzalez and Raquel Rodriguez. Both Alex and Sarah are committed to making each patient feel welcome, comfortable and provide in multiple areas of patient care.
You will not find a more caring and knowledgeable staff than at RPE where our priority is you and your vision care.
What to Expect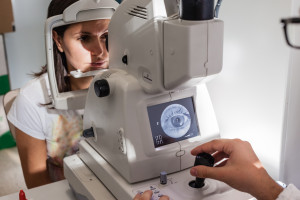 The best way to protect your vision is a yearly comprehensive eye exam. When you arrive at our office, you will be greeted with friendly faces. Each eye exam will use the latest state-of-the-art technology to asses your eye health. The doctor will inspect your eyes, answer questions, and discuss your eye care treatment options. In addition to determining your vision prescription, our doctor will test your color vision, depth perception, and check for any early indicators of possible eye conditions such as cataracts, retinal problems, and glaucoma.
Our goal is to have each patient leave satisfied knowing that they are receiving the best eye care products and services possible. We have answered a few frequently asked questions regarding eye exams below.
Is it necessary for the doctor to dilate my pupils during the exam?
Although pupil dilatation is not always necessary, the doctor may make this decision during your exam. If required, this painless process is like opening a door so the doctor can fully examine your retina. Dilation can assist in detecting diseases such as diabetes, high blood pressure, and macular degeneration.
Why is it necessary to know my blood pressure?
In addition to other health concerns, high blood pressure can affect the blood vessels in your eyes, which could lead to future vision problems.
Why is my personal background important?
In order to better tailor the eye examination to your needs, our doctor may review any current vision problems, your general health, as well as discuss your hobbies and lifestyle requirements.
Why does the doctor ask me, "which is better, one or two?"
While evaluating your prescription, the doctor will ask you to compare a series of lenses to determine which allows you to see clearer. As the differences become less noticeable, the doctor will be closer to finalizing your prescription. If you're having a hard time choosing between the options, it means you're almost done with this part of the exam!
Why am I asked to follow a light with my eyes?
This part of the exam helps determine how your pupils and eye muscles react and assists in gauging neurological function.
Call us today or visit our contact page to find a time that is convenient for you to see us.